Political_Slime is a moderator for the TTV Message Boards.
Background
Political_Slime apparently got his name due to his family's involvement with politics and the fact that he happens to like slimes from Minecraft. Like Chronicler, he has a fascination for history (especially local history) and seems to make a big deal out of corn mills due to his job working at a living museum.
History
Political_Slime joined the boards in August of 2014 and started off as a user known as "PoliticalNuju". Along with some of his friends on the boards he started a podcast known as the Cliffhorse Crew (now disbanded). He also was the creator of the "Slime for Metru Governor" topic after he asked Chronicler for permission to make it. Like many users at the time, he experienced some of the glitchy moments of the boards, to the point where the boards would have outages.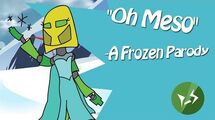 Slime built a reputation for himself when he created several parody videos related to the message boards, two related to MNOG with Meso, and two about the ModSquad over the Teenage Mutant Ninja Turtles theme.
It was sometime in 2015 when Slime officially became a moderator and joined the Mod Squad. He was already a popular user at the time and was welcomed in open arms. As such, Slime, along with John Smith and Legomaster, started the second generation of the Mod Squad.
Political_Slime joined the other moderators in the TTE April Fools prank, however, he played a far more extensive role in the 2016 Civil War prank, where he recorded a video of himself assassinating Eljay (much like the Captain America assassination by Crossbones).
In 2016, Slime created the "Project MESSAGE" chats for the Highly Suspect Hideout as a way for Master Rank board members to communicate in private and overall just become a stronger community. These PMs were eventually discontinued.
Trivia
Slime lives in Massachusetts.
Slime likes to point out that he's "Whasian" which means he's a mix of caucasian and asian descent.
Slime has built a collection of Lego Squidwards, the normal minifig head version specifically.
Slime's obsession with soup became a widespread meme after his "love song" on soup.
Here's a link to Slime's YouTube Channel.
Ad blocker interference detected!
Wikia is a free-to-use site that makes money from advertising. We have a modified experience for viewers using ad blockers

Wikia is not accessible if you've made further modifications. Remove the custom ad blocker rule(s) and the page will load as expected.